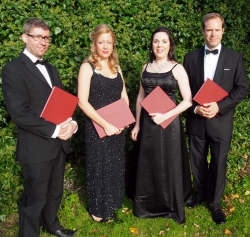 Who are we? We are very simply the fantastic Carol Singers Hire UK.  We have no clever name, only beautiful voices, unfaltering professionalism and one determined mission, to elevate your festive celebrations with the essential and unmissable warm and wonderful sounds of the holiday season.:
It was excellent! The quartet were amazing, great songs and fantastic delivery – all our guests enjoyed.
…all of the traditional Christmas carols, fun festive songs that we all know and love, and even some spectacularly unique arrangements of modern Christmas songs that you won't hear anywhere else:
…yet again a triumph! Your wonderful team really look as though they're enjoying themselves, and it's quite infectious! Please thank them from all of us, the client was very happy….
There isn't anyone in the UK with more experience or passion for festive a cappella singing than Carol Singers Hire UK.  We simply won't be surpassed.  We have a 100% track record spanning just over a decade for total reliability, and booking our carol singers to perform for your event is so simple.
We are a tight knit ensemble of very select voices and personalities that are invited to the ensemble by audition and whom rehearse our own extensive compilation of festive repertoire together at the start of every season. We are one of a kind in how we work and perform, the result being your total joy and satisfaction.
All you need to do is contact us with a few details about your event, we'll reply with a quote and, if you'd like to secure our performance, we'll send you the booking form.  We are totally happy to answer any questions you have and help with special requests, speak to you on the phone at any stage from when you first find us, and give you total confidence leading up to the event and right through to when you want to rebook us for next year!  We look forward to hearing from you…